RapidTray® Program Delivers Custom JEDEC Matrix Trays – No Tooling, No Waiting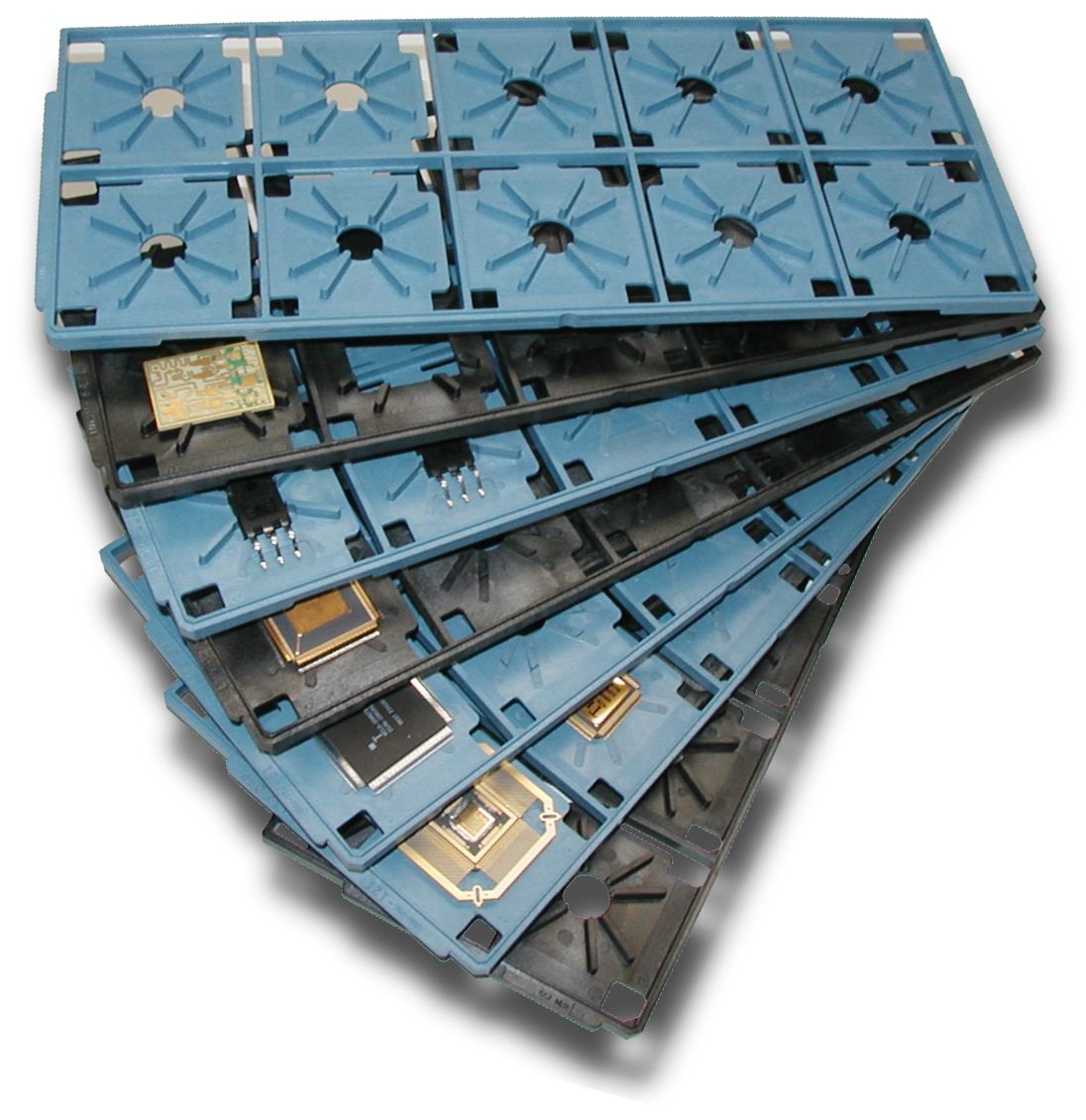 R.H. MURPHY RAPIDTRAY® PROGRAM DELIVERS CUSTOM JEDEC MATRIX TRAYS – NO TOOLING, NO WAITING
Custom manufactured JEDEC matrix trays without the cost or lead time for tooling, R.H. Murphy Company RAPIDTRAY® JEDEC outline trays provide safe, secure containment of ICs, modules, sensors, MEMS, switches, connectors – many types of electronic components.
RAPIDTRAY® component trays offer ESD and mechanical protection in an industry standard format. Precision injection molding and CNC machining combine to create custom designs without custom tooling. R.H. Murphy Company's RAPIDTRAY® program is perfect for engineering prototypes, low and moderate volume production, and any other requirements that benefit from lead times as short as one week and a low minimum order quantity. Options include the choice of 180°C and 60°C temperature ratings, custom part number engraving, and blank cover trays. With several universal tray blanks available, as well as cover and spacer trays, component heights from 0.5mm to more than 25mm are readily accommodated.
The RAPIDTRAY® program is powerful for companies developing new components or working with low volume devices. It is also ideal for equipment manufacturers seeking trays to demonstrate functionality with new products and perform customer buy off. Production worthy and fully process capable, the RAPIDTRAY® program lets product startup proceed without prohibitive costs, lead time, or commitments.
RAPIDTRAY® JEDEC outline trays are compatible with automated and manual processes. Premium NoStat® conductive polymers are used to ensure consistent properties and performance. All trays are designed by engineers with extensive experience in design and manufacturing.
About R.H. Murphy Company
Founded in 1982, R.H. Murphy Company has been an industry leader, inventing and supplying much needed products to support manufacturing, testing, and shipment of semiconductor devices, integrated circuits, sensors, and a growing range of electronic components. R.H. Murphy Company combines exceptional creativity with knowledge and expertise in ESD management, industry standards, and automation technology which have been applied to the design and manufacture of polymer products generating numerous U.S. and international patents. For more information contact R.H Murphy Company, Inc., 3 Howe Dr., Amherst, NH 03031; Call 603-889-2255; Fax 603-889-3129; email [email protected]; or visit www.rhmurphy.com.
---