JEDEC Matrix Trays are uniquely suited for the precision handling and protection of your parts in an automated environment.  By positioning components in a well defined pattern, they simplify automation and associated programming tasks.  JEDEC Matrix Trays are widely used for semiconductors and other types of electronic components, optical and photonic products, and purely mechanical parts.  Pick and place automation, and utilization of standardized process equipment are the most common reasons companies choose to use JEDEC Matrix Trays.  The majority are manufactured of ESD-safe engineering plastic.
Applications of JEDEC Matrix Trays
JEDEC matrix trays serve many purposes:
Standardization – JEDEC IC matrix trays offer compatibility with most semiconductor and PC board manufacturing equipment.  With decades of history and familiarity, support products for JEDEC matrix trays are widespread and global.  This includes corrugated boxes, protective covers, retaining straps, modular feeders, and a wealth of industry knowledge.
Packaging – at their core, trays are simply containers.  The JEDEC matrix tray outline includes features for stacking, whereby each successive tray becomes the cover for the tray below.
Transportation & Storage – parts loaded into stacked JEDEC matrix trays are easy to store or transport, across the room or around the world.  JEDEC matrix trays also function as process "boats", transporting their contents through a variety of process tools and equipment.
Protection – JEDEC matrix trays protect the parts they hold from mechanical damage.  Most JEDEC matrix trays are manufactured using materials that also provide electrical protection from electrostatic discharge (ESD) damage
Benefits of Using JEDEC Matrix Trays
Industry Standard
JEDEC matrix trays are recognized and understood. They give you instant access to equipment and accessories. JEDEC outlines have become the common language of automation.
Automation Ready
Four simple values define the matrix of tray pockets: X and Y position of the "first" pocket, and X and Y steps for all additional rows and columns.  Asymmetric end tabs ensure proper orientation. Standard recesses and vacuum pickup points work well with many types of elevator and feed mechanisms. Interlocking features keep tray stacks stable.
Precision Built In
JEDEC matrix tray outlines have well established reference features and datums. The outline dimensions and tolerances take the risk out of equipment design, accelerating development time and lowering cost.
Convenient and Practical
Pin One indicators, visual alignment indicators, and designated space for marking and engraving – years of development make JEDEC matrix trays a smart, practical tool for your manufacturing process.
Adaptable and Process Compatible
JEDEC matrix trays can be designed for almost any components that fit within the footprint. Material options offer ESD protection, temperature and chemical compatibility, and a wide range of properties to match your application.
WIP, Ship, and Storage
It's easy to get one tray for all your needs. Build your parts, hold them on the shelf or ship them out, and then move them into final system assembly. No extra handling. No extra containers or media. Standard boxes, straps, and bags make it simple!
Our JEDEC Matrix Tray Solutions
Although all JEDEC matrix trays share outlines and external features, the details of the pockets, the matrix, are what make them custom and valuable.  Our experience gained making matrix trays for thousands of different parts has made us experts.  Here are some examples of the benefits of, and needs for, custom JEDEC matrix trays.
BGA trays benefit from being flippable.  Once it was realized the BGA solder balls needed to be inspected, flippable BGA trays became the gold standard.
PGA packages have arrays of strong pins that can tolerate use as locating features.  Universal PGA matrix trays that can hold a variety of sizes are unique among JEDEC trays.
QFP trays, and trays for other gull wing surface mount packages, place an emphasis on protecting the leads from damage.  Most JEDEC matrix trays for these packages have elevated pedestals and "fences" that fit inside the formed leads to capture and locate the package body.  The leads remain clear of contact with the tray.
TQFP, TSOP, SOIC and similar packages have lead forms that do not offer enough clearance for molded "fences".  JEDEC matrix trays for these packages often make contact with the leads to locate the parts in the trays.  The leads are short enough that they can usually withstand the contact without damage, helped by the packages often being very low mass.  Some custom molded trays for these package types will have features on the trays' undersides that provide secondary retention for parts below when trays get stacked.
Although all JEDEC matrix trays are custom to some degree, they often have familial similarities.  Some components are unique enough to require completely new designs.  Part design or process requirements may require a completely custom JEDEC matrix tray.  As long as the tray follows the JEDEC matrix tray outline it will still benefit from the JEDEC tray infrastructure and will be compatible with JEDEC tray feeders and automation equipment.
Specifications of JEDEC Matrix Trays
In general, JEDEC matrix trays look similar and have a standard outline but they are custom designed and manufactured.  Many of them are not only device specific but device manufacturer specific.
Off-the-shelf simply means a manufacturer has enough demand for a specific custom tray that they carry some inventory.  More common is open-tooled where a custom mold will be set up and run for any order but often with a minimum quantity and/or significant setup charges.
Size
JEDEC Matrix Trays should all conform to the JEDEC Matrix Tray Outline in JEDEC Publication 95 with nominal length of 315mm (12.4") and width of 135.9mm (5.35").  There are two thickness defined by JEDEC but many other variations dictated by the size of the parts for which the trays have been designed.  Tray flatness tolerance is specified to be within 0.8mm (.030").
The Matrix
There's a reason they are called "matrix" trays.  Parts are retained in the trays in regular patterns of rows and columns, creating an array, or matrix.  The number of rows and columns (the order of the matrix), the position of a corner point of the pattern, and the pitch of the rows and columns fully defines the matrix including the number pockets and the location of each pocket within the tray.  Automation equipment that uses JEDEC matrix trays accepts these input parameters for simplified programming.
Material
JEDEC does not specify the tray material but the tray must be permanently marked (usually by molded characters) with the maximum operating temperature to which the empty tray can be subjected for 48 continuous hours without violating the dimensional tolerance of the tray.
RH Murphy Co. manufactures most of our JEDEC matrix trays of one of our NoStat® ESD-safe polymers but also uses a variety of custom materials based on application requirements.
Capacity
The maximum number of parts a tray can hold depends on the part geometry, the application's processing requirement (how parts will be loaded and removed, special tray features, etc.), and the tray manufacturing limitations.
Most JEDEC matrix trays arrange parts in a regular matrix of rows and columns so that a part's location can be defined using row and column numbers and knowing the "first" position location together with incremental row and column steps.
Color
Tray color is not defined by JEDEC.  Many trays rely on the use of carbon to make the material conductive for ESD protection.  This results in a default tray color of black.  Other colors are possible depending on the material properties.
RH Murphy Co. traditionally uses blue materials to identify trays that are not bakeable, i.e. have maximum continuous use temperature ratings below 100℃.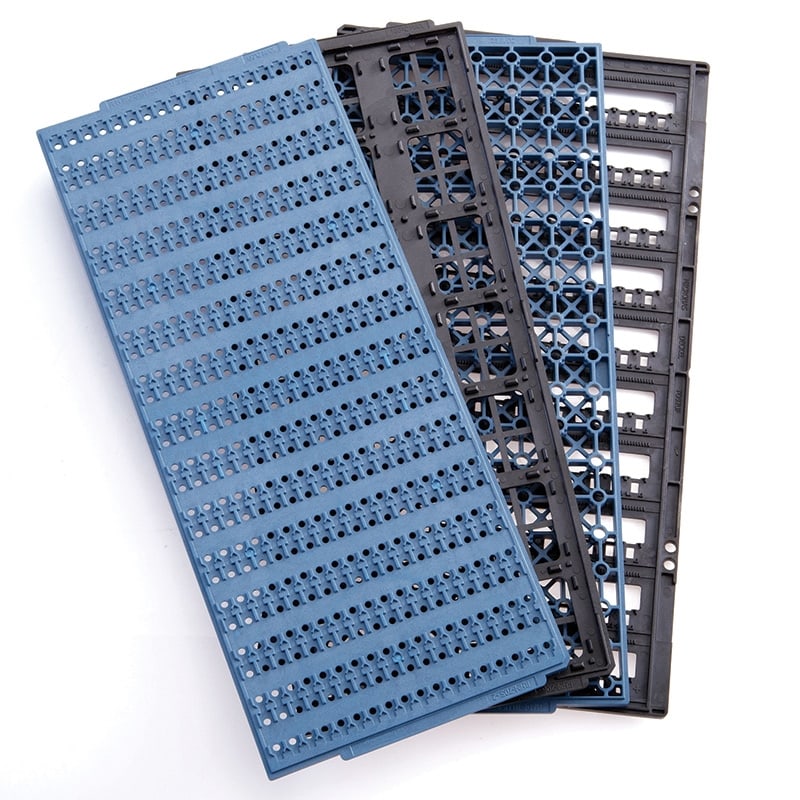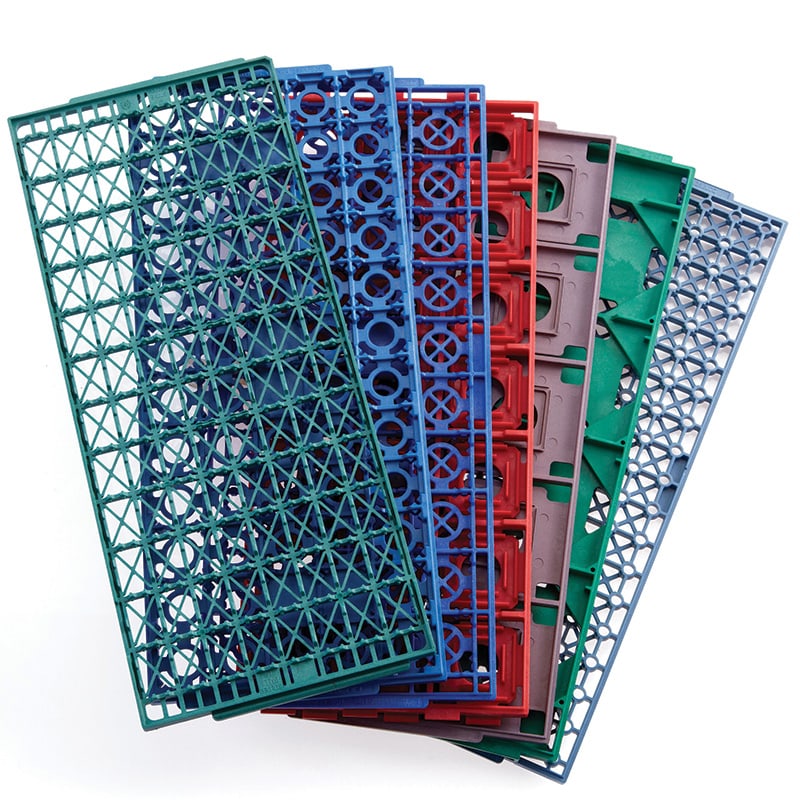 Our Expertise in JEDEC Matrix Trays
RH Murphy Co. participated in the original JEDEC meetings that led to the JEDEC Matrix Tray outline.  We were one of the first manufacturers of JEDEC matrix trays and we have been designing and producing them continuously since then.
We understand what makes for a great tray and we also know how to get the full value from JEDEC matrix trays.  Our NoStat® ESD-safe polymers have been formulated specifically to meet the needs of tray manufacturing.
Our customers have access to knowledge gleaned from thousands of applications and projects.  You can have the benefits of:
Years of experience in providing JEDEC matrix tray solutions
Knowledge and understanding of JEDEC standards and requirements
State-of-the-art equipment and technology for JEDEC matrix tray production
Highly trained and knowledgeable team of professionals
JEDEC Matrix Tray Accessories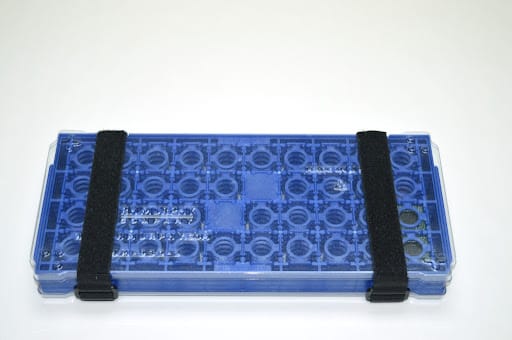 JEDEC Matrix Tray Covers – RHM-930 covers protect the trays that they cover but will not keep components in a loaded tray.  These tray covers help keep trays and parts clean, prevent accidental handling contact with parts, and give extra ESD protection.
Tray Straps – Our experience has been that ESD-safe hook and loop straps are the most popular reusable retaining method.  Some companies use thermally bonded plastic straps but they require special tools to apply and have to be cut off.  We do not sell the straps but a web search on "Velcro straps" or "ESD Velcro Straps" might get you other options.
Pricing & Availability
Custom Molded JEDEC Matrix Trays – generally $3 to $15 – higher quantities have lower prices, less than 1,000 the price rises sharply – non-bakeable trays have lower prices than bakeable trays – the NRE Charge associated with a new tray mold ranges from $20k to $45k.

Trays that are in stock ship within one to two business days.
Trays that are tooled but not in stock usually ship within four weeks.
New custom molded matrix trays, requiring a new mold, generally ship in six to sixteen weeks for the date of order, depending on the type of tooling being built and the amount of time the customer needs to evaluate first article samples.

RapidTray® Machined JEDEC Matrix Trays – $22 to $50 each – no tooling is required – $225 programming charge on first order only – fixed prices from 10 to 1,000. Standard lead time is two weeks after receipt of order
Request a Quote
JEDEC Matrix Trays are the best answer to many questions.  Your next step is to tell us about your needs so we can build the correct tray for your application.  A drawing, model or sample of your part and a few simple details are all we need to connect you with your custom JEDEC matrix tray.
Here is the information we will use to determine your best tray option and generate your quotation.
Sample, CAD model, or drawing of the module or part with accurate dimensions (± .005"/0.13mm)
Quantity of parts for which you will need trays, now and overall, and anticipated ordering quantities
Timeline for your tray requirements
Temperature requirements – Do you need bakeable trays (rated up to 180°C) or non-bakeable (rated up to 60°C) or another tem
How tray will be used – shipping, storage, processing, automated or manual handling
Any special requirements for your process
Call us, send an email, or click here to receive your quote.